"

Don't be fooled by the way capitalism co-opts art. It pretends to do it for money, but underneath money is terror. Terror that there might be a different way to live. There is a different way, and it's not a William Morris utopia, or an Omega workshop niche; it's a celebration of the human spirit. Art reminds us of all the possibilities we are persuaded to forget. Peace or war, we need those alternatives.

Jeanette Winterson, 'What is art for?', The Guardian.

Quote

tagged as: jeanette_winterson art capitalism the_guardian
I reviewed Ilse D'Hollander's solo exhibition at Konrad Fischer for Texte Zur Kunst. The essay is not online, unfortunately, but you can order it here.
After her death, D'Hollander's paintings were stored away for years. The Flemish collector in possession of her oeuvre, a close friend of the artist deeply saddened by her passing, could for some time not bear the idea of sharing the collection with the world. Writing on the artist is therefore sparse. Of the critics who have written on D'Hollander, many have compared her paintings to the work of her compatriot Raoul de Keyser. Certainly, De Keyser unmistakably had an influence on D'Hollander. Like him D'Hollander uses abstraction to evoke a sensation of invisible figuration. Her work does not represent anything or anyone in particular; but it often, through elongated brush strokes or fields of color, intimates forms, gestures and movements we may very well associate with a multiplicity of situations – what Deleuze calls, writing about Bacon, the diagram. What sets D'Hollander's paintings apart, however, what puts them into a universe of their own is their cautiousness. These paintings give the impression that every line drawn, every color used, was followed by hours if not days of contemplation, of doubting and internally discussing their position, application and function, not merely in terms of materiality but in terms of the world they create. The artist sets out to create a harmony that she understands she cannot create.
Link
tagged as: ilse_d_hollander konrad_fischer painting review texte_zur_kunst
In December of 2013 I travelled to Brussels to meet up with the artist Monika Stricker. We spoke about Foucault and speculative realists, minimalism and simulacra, Dusseldorf and cinema. The talk was sprawling but intense and I enjoyed it very much. I published a short monograph on Monika's work in Frieze D/E's March issue. An excerpt is published below. The full text can be accessed here.
Stricker's hesitates in labelling her work as art and this not mere false pretense. Her skepticism seems to stem, rather, from a thorough understanding of the conditions that sustain art making in the 21st century. There is sex, Michel Foucault wrote in The History of Sexuality Vol. 1. (1976; 1990), and there is sexuality. Sexuality is what happens to sex when we speak about it, when we say what is normal and abnormal, permitted and perverse. Today sex is always already an expression of sexuality. Art is no different in this respect. Stricker explained to me that once her work is conceived as art – by others or herself – it ceases to be art and is reduced to one of the various discourses about art. Therefore, however much her work may have in common with traditions of minimalism and conceptualism, it cannot, in fact, belong to any of these registers.
Link
tagged as: monika_stricker monograph frieze_d_e clages wiels
For the March issue of Frieze D/E, I reviewed Katie Holten's thoughtful and exciting solo exhibition at Van Horn, Dusseldorf. As always, I have posted an excerpt below. The full review can be accessed over at Frieze D/E.
What made the show so compelling, as well as moving, was the craft and effort that had gone into these works. Intricate composites of white charcoal, chalk and oil stick on black canvases, the pictures were drawings of photos, not photos of photos or the originals themselves. The difference between the drawing and the photograph is twofold: first, drawing is a skill of the hand whilst photography is a quality of the eye, which is to say that the former is an art of touch, of the body, whereas the second is an art of vision, of the mind (of course, I am exaggerating here, but you catch my drift) 
Link
tagged as: katie_holten van_horn review frieze_d_e
I reviewed Ane Mette Hol's impressive solo show at Galerie Kadel Willborn, Dusseldorf, for Frieze. I have posted an excerpt below. You can read the whole review here.
Many of the postmoderns dealt with events or sites of specific significance. Baudrillard, for instance, wrote about the First Gulf War, while many of Demand's photographs are modelled after crime scenes. The idea was to problematize the authenticity of these events. The Gulf War didn't happen, Baudrillard wrote. Not because there weren't any casualties, but because all casualties, human, material or financial, had been calculated beforehand. So when the war took place, it in fact played out a script already written. In contrast, Hol concerned herself in this exhibition with non-events, with non-places – the cleaning of floors, the hanging of lamps, the white cube of the gallery before or after installation – in order to turn them into something akin to an event, into a place. For one of the exhibition's most elaborate pieces, After the Dust Settles #2, the artist spent days crayoning 500 A4 sheets of paper with white dry pastel and arranging them on the floor, only to remove them immediately after, leaving just the traces of dust. What this work pointed to, movingly, was precisely the placeness of the gallery as a non-place. It mapped, quite literally, the effort, skill and personality that goes into the maintenance of a space intended to accommodate everything without memory of its previous occupancy.
Link
tagged as: ane_mette_hol frieze review kadel_willborn
Shia Labeouf performed a reading of "What is metamodernism?", written by Robin van den Akker and myself; and "The metamodernist manifesto", written by Luke Turner, during my cultural theory class last term. The performance was created by Shia, Luke and Nastja Rönkko.
Video
tagged as: shia_labeouf luke_turner nastja_ronkko metamodernism radboud_university_nijmegen cultural_theory performance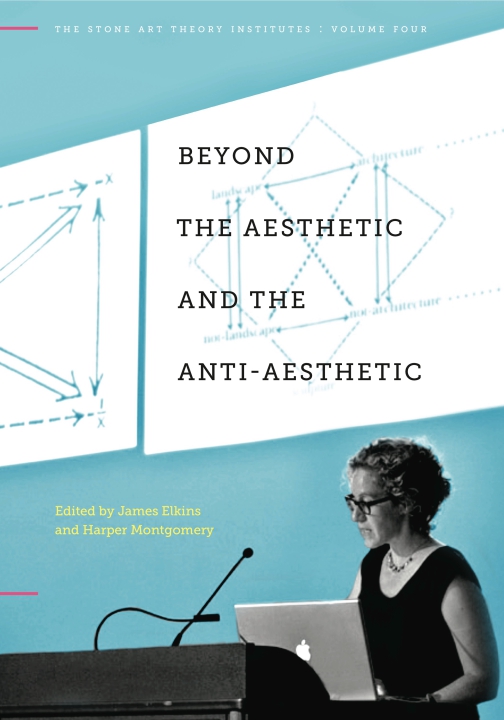 Penn State University Press just published the exciting anthology Beyond the Aesthetic and the Anti-Aesthetic, edited by James Elkins and Harper Montgomery. Among the contributors are Hal Foster, Boris Groys, Eve Meltzer, Diarmud Costello, Jay Bernstein, Alex Dumbadze, Luis Camnitzer and myself. I have posted an excerpt below. You can order the book here or here. 
According to Schaper, Kantian aesthetics is about pretending that something is one thing even though one knows that it may well not be. The aesthetic that Foster seems to postulate in his introduction to the Anti-aesthetic, the aesthetic implicit in the debates in the Stone Brook seminars, is one of pretense without the knowing: something can be a totality, something can be normal, something can be unique, etc. Consequently, the anti-aesthetic, as the aesthetic's supposedly radical critique, is configured as a knowing without the pretense, in which each illusion of totality, normality, unity, is taken apart. If one wishes to rethink the relationship between the aesthetic and the anti-aesthetic, then, it is worth taking Schaper's interpretation of Kant's third critique into account.

I think that if we take Schaper's interpretation of the third critique into consideration, we may be able to write an alternative history of modernity (one that exists alongside the others rather than replaces them) that carries in it both Foster's anti-aesthetic and the aesthetic implied by it: a modernity that pretends while simultaneously perceiving that what it pretends is problematic; a modernity that tries in spite of. Indeed, it is this mode of modernity that has long proved problematic for the chroniclers of modernity: the philosophy of Henri Lefebvre, the novels and short stories of Robert Coates, the performances of Bas Jan Ader, the films by Pier Paolo Pasolini; works characterized by being both modern and postmodern and neither of them: both believing and knowing, and because that is a contradiction in terms, neither of them; both sincere and ironic and neither of them, constructive and-nor deconstructive, and so forth.
Link
tagged as: as_if metamodernism beyond_the_aesthetic_and_the_anti_aesthetic james_elkins harper_montgomery kant aesthetics eva_schaper
This summer I wrote a monograph on the marvellous artists Diango Hernandez for Frieze. It was published in the November issue. I have posted an excerpt below. You can read the whole text here.
Diango Hernández's art works function like route planners whose coordinates have been purposely typed in incorrectly. They send us on our way, but never where we thought we were going. For Hernández, disorientation is less about being lost then about discovering, less about surrendering to chaos than striving for signification. For if he undermines our sense of direction by exposing myths of totality and universality (Nazism, communism, capitalism), he also provides us with the tools – blemishes, shadows and fragments, auctorial decisions and artistic license – with which to imagine alternative paths. Just be careful where you tread.
Link
tagged as: diango_hernandez frieze ways_of_knowing disorientation
Last month I reviewed the impressive solo show by the promising young artist Daiga Grantina at Max Mayer for Frieze. 
Entering Daiga Grantina's solo exhibition 'scity-ox-tails' felt like walking into another world. Stepping through the door of the gallery, with its windows shut and covered, light turned into darkness, the clatter of the everyday into an eerie silence. It wasn't a pleasant place, necessarily, or the kind of fantasy world… Read more here.
Link
tagged as: frieze daiga_grantina max_mayer review
I am really excited to announce that the article Gry Rustad and I wrote on Mad Men and contemporary television aesthetics a few years ago was just published by Screen. You can access the essay here.
Link
tagged as: gry_rustad television mad_men aesthetics television_aesthetics jacques_ranciere screen
Dutch Weekly De Groene Amsterdammer just published an article Robin van den Akker and I wrote on the New Sincerity and metamodernism. For those of you who read Dutch, you can access the article online here.
Het postmoderne tijdperk is definitief voorbij, en de bijbehorende ironie al helemaal. Veel kunstenaars zoeken naar oprechtheid en naar mogelijkheden om een gedeconstrueerde wereld opnieuw van betekenis te voorzien, hoe vluchtig, vaag of irreëel ook. Het begin van het metamodernisme.
Link
tagged as: metamodernisme groene_amsterdammer new_sincerity sincerity irony
The latest issue of the American Book Review is dedicated entirely to metamodernism. Edited by the brilliant literary theorist Christian Moraru, it features essays by some of the leading scholars in the field, including NoM co-founder Robin van den Akker and my friends Raoul Eshelman, Alan Kirby, and Alison Gibbons. I contributed a piece on Jonathan Franzen's Freedom. You can get the whole issue here. 
Link
tagged as: american_book_review metamodernism
Steven Peacock and Jason Jacobs just published the first ever anthology on television aesthetics and style with Bloomsbury. I am happy to inform you that my good friend James Whitfield and I contributed an essay on the pull-back-and-reveal gag in Arrested Development. Among the other contributors are renowned TV scholars like Sarah Cardwell, Jason Mittell, Janet McCabe, George Toles and Frances Bonner as well as some of my long time friends Lucy Fife, James Zborowski, and Faye Woods
Link
tagged as: television_aesthetics arrested_development
The Estonian Journal Methis: Studia humaniora Estonica just published an Estonian translation of 'Notes on Metamodernism', the first article Robin and I published on metamodernism. This is the third translation, after a Russian and Mandarin translation. You can download the essay here, alongside an introduction to the project.
Link
tagged as: methis estonian metamodernism robin_van_den_akker timotheus_vermeulen translation
I reviewed the group show Drawing a Universe at KAI10, Dusseldorf, for Frieze D/E. You can read the whole review here (only after subscribing, though, unfortunately). Below is an excerpt.
"With Drawing a Universe curator Ludwig Seyfarth put together a very ambitious show. After all, to draw a universe is no small feat. In fact, it's massive. If someone tells you that he is drawing a universe, what he means to say is that he is conjuring up an entire cosmos of natural laws and social customs, of uncharted possibilities and alien creatures (some seemingly emerging from the tradition of middle earth, others descending from the genres of outer space). It was something that the Romantics worked on. The Modernists, the Kazemir Maleviches, Luis Buñuels and Robert Musils of the early 20th century, too, laboured towards this ideal exhaustively. But after some of these utopic fictions turned into catastrophic realities – i.e. Communism, Nazism – drawing a universe became something of a taboo. It was the kind of grand narrative you were better not to engage in. As a result, artists like Martin Kippenberger and Joseph Beuys, Jeff Koons and Sarah Lucas were not interested in drawing new universes; they were (dis)content ripping apart the ones their predecessors had sketched out.
This show was the latest in a series of contemporary exhibitions that has attempted to reinstate the Modernist art of imagining possible worlds. Here, as elsewhere, it has been a case of repetition with a difference, however. In contrast to the Modernist tradition, the artists in Seyfarth's show constructed universes across a wide variety of media, genres and traditions, ranging from aquarelle paintings (Anke Röhrscheid) to pen drawings (Bettina Krieg), cardboard sculptures (Jenny Michel) to installations made from twigs, sand and wood (David Thorpe), chromatographs covered in mineral salts (Nora Schattauer) to a musical composition (William Engelen). The seven artists also all created what the press release aptly referred to as 'Wimmelbilden', multiplicitious and chaotic worlds, worlds that do not pertain to one ideology or logic but invoke a teeming plurality of often contrasting ideas and sentiments: freedom and chaos, nature and culture, eroticism and oppression, science and fiction, dreams and memories…."
Link
tagged as: drawing_a_universe kai10 bettina_krieg modernism wimmelbilden