As the second season of the popular HBO sitcom Girls (2012–ongoing) draws to a close, it seems like the right moment to have a look at some of the girls on television today. Because there are quite a few of them. About a year ago, the only one was Gossip Girl (2007–12). Today, I can think of at least five shows whose title includes the word 'girl': besides Girls there are 2 Broke Girls (2011–ongoing), Bomb Girls (2012–ongoing), New Girl (2011–ongoing) and Lost Girl (2010–ongoing). By contrast, there are no show about boys. So what's going on? Are we in the midst of a full-blown, fourth-wave feminist revolution at the hands of teenagers? Or are we witnessing the mass infantilization of women? Because, for all the girls, there are no contemporary television programmes about women – wives, yes, but women, no. (In comparison, men feature in the titles of three current TV shows)… Read on here.
First published in Frieze 154.
Link
tagged as: frieze girls new_girl 2_broke_girls bomb_girls feminism television
The exhibition 'First We Make the Rules Then We Break the Rules' at the Kunsthalle Düsseldorf brought together the work of two artists who are separated not only by a continent but by half a century as well: Öyvind Fahlström was born in 1928 in Brazil to a Norwegian father and a Swedish mother, and died in 1976. Simon Evans was born in 1972 in the UK, to British parents. What unites these artists is that both have made a name for themselves as psycho-geographers, drawing maps of their environment along the lines not of territory or geology but of politics, sociology or the body. Their cartographies are not the charts of atlases but of institutional racism and class divides, of personal experiences and dreams… Read more here.
First published in Frieze 154. 
Link
tagged as: simon_evans oyvind_fahlstrom kunsthalle frieze review art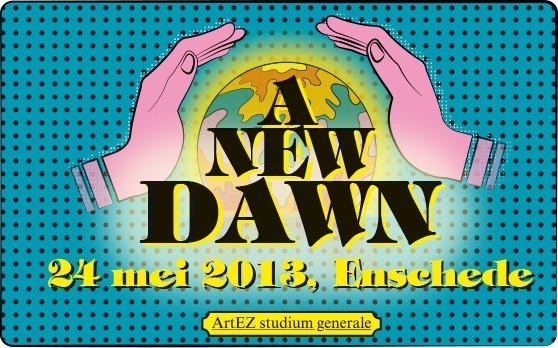 "I paint your house, you sing a song at my boyfriend's birthday. The next door neighbour sets up a farm on the roof of his house. Artists sell gloves knitted by Granny – the proceeds are for an art project. Things can be different!"
On May 24th, Notes on Metamodernism and Artez Studium Generale will be working on the future. And we would like to invite you to join us! From sustainable design to constructive engagement, and with sensitivity for each other, our surroundings and our artistic practice. And we're gonna be hard core! New ways of working, implementing the newest technologies and getting back to basics too. It's sure to be a success!
We present an extraordinary line-up of internationally renowned speakers and artists – starting with a wake-up call from Laura van Dolron (stand-up philosopher). Also, a diverse range of workouts packed with powertalks, idea injections and sparkling new perspectives. Including names such as: Tod Machover (composer, inventor), Hendrik-Jan Grievink (co-founder Next Nature), Ulf Aminde (visual artist, theatre maker), Nicole Beutler & Jessica Helbach (choreographer & costume designer), Rob Voerman (visual artist), Michiel Schwarz & Diana Krabbendam (sustainist thinkers & designers ), Pascale Gatzen (fashion designer), John-Paul Flintoff (journalist, film maker, auteur), Charles Avery (visual artist, writer), Wunderbaum (actors collective), Willem van Schinkel (sociologist), Nathan Johnson & Katie Chastain (musician, composer of scores to films such as Brick and Looper, producer, visual artist, performer and singer in the wonderful band Faux Fix) and many more. Finally, a cooling down with myself & Robin van den Akker (cultural philosophers, founding editors Notes on Metamodernism).
We hope to see you there!
Registration from 16 April 2013 via www.artez.nl/studiumgenerale
Link
tagged as: a_new_dawn artez metamodernism ulf_aminde rob_voerman tod_machover faux_fix next_nature pascale_gatzen robin_van_den_akker timotheus_vermeulen nicole_beutler wunderbaum charles_avery
Thirteen Theses on Democracy
Liberal democracy isn't doing so well these days. The countries that have it seem keen to get rid of it. Presidents are installed without being elected (Italy), autocratic populist parties are on the rise (the US, the UK, France, the Netherlands), debates are settled by hand-to-hand fighting (South Korea), and freedom of speech is inhibited (everywhere). The countries that do not have liberal democracy, meanwhile, do not seem all too excited about getting it. What follows below are thirteen theses on the problems of liberal democracy.
Text
tagged as: democracy end_of_democracy alternatives metamodernism politics capitalism media crisis postmodernism change history
I just had a piece published in Frieze D/E on the Düsseldorf art scene. Below is an excerpt. You can read the whole article here or buy it at your local magazine stand.
Once upon a time, Düsseldorf was one of the centres of the art world. In the 1970s, the picturesque village by the Rhine was home to Joseph Beuys, Jörg Immendorff and Gerhard Richter, while artists like Thomas Ruff, Katharina Fritsch, Reinhard Mucha, Thomas Schütte and Andreas Gursky became residents in the 1980s. German polemicist – or 'macho', as it is often called – Postmodernism was founded in this town, while the legacy of the above artists ensures the art of critical deconstruction will forever be associated with it.

Then the Berlin Wall fell. Galleries and artists, critics and even a number of collectors moved to Berlin, drawn by cheap rents and uncharted possibilities. By that time, the privileged position of the western, white, male artist had become unsustainable The female point of view grew to be an important part of the canon, as did the non-western perspective. Since the Düsseldorf scene had not nurtured an art history with either group, this lacuna, too, contributed to the exodus. For years, the town seemed doomed to wither away at the margins of art discourse. Despite its renowned art academy, expansive institutions, wealth of collectors and wonderful infrastructure, the city was eventually neglected by the international cultural elite.

Sometime in the mid-2000s, however, something began to shift. Institutions appointed new curators (Gregor Jansen at the Kunsthalle, Marion Ackermann at the Kunstsammlung Nordrhein-Westfalen), the art academy changed its  traditionalist course structured around painting to include photography and video art, private collectors like Julia Stoschek opened their doors, old galleries returned while new project spaces like Volker Bradtke and Single Club popped up. There has even been a mention in a few of the international art magazines. The town is beginning to create, as they say, a buzz – carefully, gradually – but a buzz nonetheless.
Link
tagged as: frieze_d_e d_sseldorf art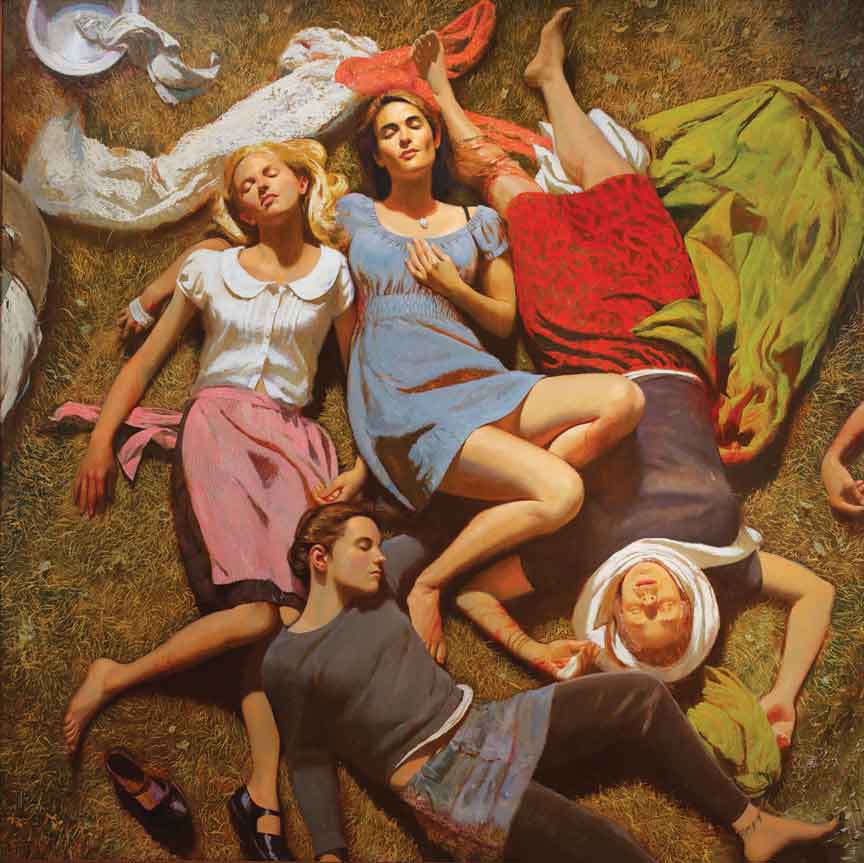 Art Pulse Magazine just published a really interesting essay on metamodernism and painting by the art historian Stephen Knudsen. Knudsen writes
Bartlett's figures in School of the Americas deal with the oncoming world threat differently. As young protesters, they also find utopian ideals to be suspect; however, in their repose they are ironically taking action against the threat. They are confronting the inventors of the end of the world: us. Specifically, they are facing down the strongest military in the world-a military mandated to prevent apocalypse, but also one with apocalyptic potential that could explode if not regulated by the people. School of the Americas becomes a reflection of ourselves; we still want to believe in something good, even in a world with utopian enthusiasm put into checkmate.

In School of the Americas, the figures seem just as paralyzed as those in The Old Man's Boat, but ironically, they are just as active in facing a threat as those in The Raft of the Medusa. They do care. There is postmodern angst for sure but not postmodern apathy.

Certainly, School of Americas and metamodernism in general do not mark the return to old-fashioned identity. Rather, metamodernism allows the possiblity of staying sympathetic to the poststructuralist deconstruction of subjectivity and the self-Lyotard's teasing of everything into intertextual fragments-and yet it still encourages genuine protagonists and creators and the recouping of some of modernism's virtues. 
You can read the whole article here.
Link
tagged as: postmodernism post_postmodernism metamodernism art_pulse bo_bartlett stephan_knudsen
The Chinese Journal Foreign Theoretical Trends just published a translation of Robin and my first article on metamodernism, 'Notes on Metamodernism' (2010). The article can be found online here.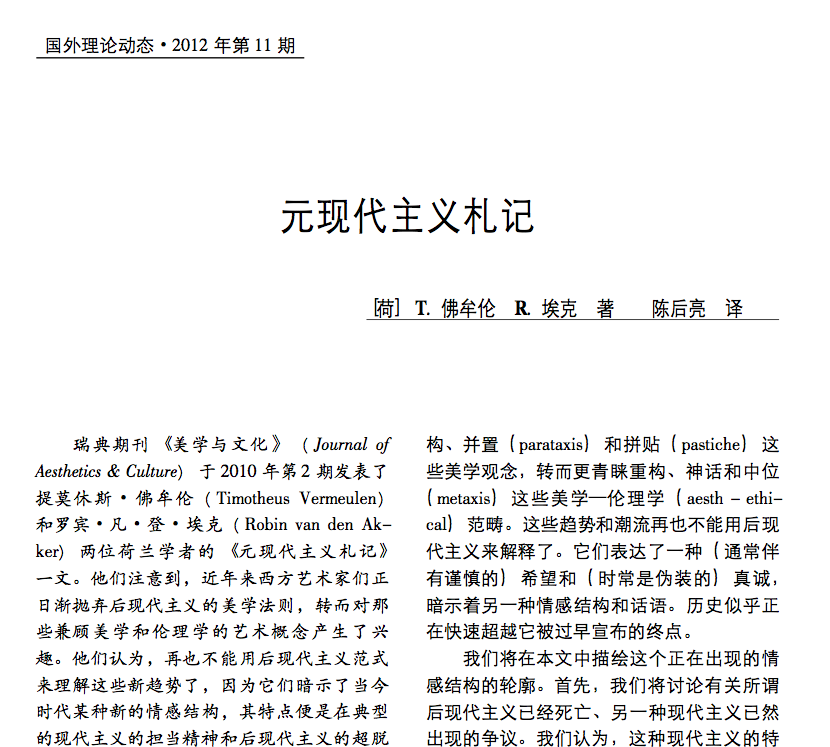 Link
tagged as: foreign_theoretical_trends notes_on_metamodernism timotheus_vermeulen robin_van_den_akker chen_houliang
Frieze asked me to list my highlights of 2012. I've copied them below. You can read more highlights here.

Benh Zeitlin, Beasts of the Southern Wild, 2012, film still
Picks of 2012
Art
Unsurprisingly, given my own field of interest, I was very taken with the 'Discussing Metamodernism' group show at Galerie Tanja Wagner, Berlin. Including works by established artists like Mona Hatoum, Monica Bonvicini and Olafur Eliasson alongside emerging performers such as Andy Holden, Ragnar Kjartansson and Annabel Daou, its post-ironic urgency really captured the tense and uncertain spirit of the times. For much the same reason, I also really enjoyed 'Meer Licht' at Museum de Fundatie in Zwolle. Then there were Pedro Reyes,Adrian Royas, and Tino Sehgal at dOCUMENTA (13), and Egle Budvytyte's work Magicians at the Stedelijk, Amsterdam.
Books
In literature, the publication of the first biography of David Foster Wallace (D.T Max, Every Love Story is a Ghost Story) was exciting, as were the oddly entertaining diaries of Peter Sloterdijk, Zeilen und TageI (Suhrkamp); the new edition of Gogol's masterpiece Dead Souls (New York Review of Books Classics; translated by Donald Rayfield), Natasha Wimmer"s translation of Roberto Bolano's Antwerp and Zadie Smith's NW.
Film
The distressing documentaries The Act of Killing (dir. Joshua Oppenheimer), a reenacting of a genocide by the perpetrators, and The Invisible War (dir. Kirby Dick), documenting rape in the US Army, have both stayed with me. Benh Zeitlin's first feature film Beasts of the Southern Wild was also pretty special, perhaps even trumping his 2008 short Glory at Sea.
Television
Despite the predictable backlash in magazines and blogs, I thought Mad Men was superb again. Treme and Breaking Bad were good. Parks and Recreationconsistently offers the best critical comedy since Arrested Development. It really is quite incredible what television is putting out there at the moment.
Reasons to be cheerful in 2013
Looking forward to 2013 is equally exciting. Given that I recently moved to Dusseldorf, I will definitely be present at this year's Rundgang, the academy's graduation show. I am curious also to see what Phil Morrison's new film, Almost Christmas, will be like. His 2005 film Junebug – his only film to date – remains one of the masterpieces in recent art history. Terrence Malick's sudden mass output will be interesting. And of course the news that R. Kelly is working on a sequel to Trapped in the Closet is a great prospect for all art lovers.
Link
tagged as: frieze highlights
I reviewed David Douard at Rong Wrong for Frieze. 
A house that is haunted, the cultural theorist Michel de Certeau once wrote, is at least a house that has been lived in. It is a space that has been imbued with personality, with history, with locality. What is really frightening, he noted, is the house that bears no trace at all. By definition, the contemporary art gallery is an example of the latter space, or, to use the term De Certeau's student Marc Augé introduced, a 'non-place'. It is part of the same tradition as motorways, shopping malls and airports: a place to come and go, where your presence is scripted; a space to experience without affecting it or being affected (a gallery is rarely the accumulation of dialectics between shows, after all; on the contrary, it effortlessly renews itself every few months). In this respect, David Douard did something rather extraordinary for his exhibition at rongwrong. In 'Lord Anthony', he deconstructed the simulacral nature of the gallery precisely by constructing the very experience deemed impossible: a space haunted by all sorts of memories and dreams, moving the visitor – or at least this visitor – long after he had left. …
You can read the full review here.
Link
tagged as: rong_wrong david_douard frieze review art
Frieze D/E just published my review of Bernd Krauß latest show, Das ist heute möglich, at the Kölnischer Kunstverein. I write:
On the one hand, Krauß's reshuffling draws attention to the ridiculous trash our culture has produced. If this is what we leave behind, I couldn't help thinking, we've got little to be proud of. On the other hand, his reshuffling tells us that this culture can be reconstructed and reclaimed, no matter how commodified and standardized it has become. The only thing you need is a bit of engagement and imagination. Krauß works objects to evoke memories one might relate to, memories that stick to the plastic and the Styrofoam as much as to our skin: playing silly games on a Sunday afternoon inGroße An- und Ausziehuhr(Big Dressing and Undressing Clock, 2003); inadvertently stepping in dog shit inKinderfuß mit Scheiße drauf(Child's Foot with Shit On It, 2012); building magic objects from scrap inMagic can(2003). The artist does not just want to make us realize we have been producing and consuming crap all our lives, as some artists have suggested (Wim Delvoye comes to mind). Without denying it is shit (there is definitely some comedy involved in acknowledging just how shitty some things are), he tries to show that shit can still be fertile ground – manure, after all, provides perfect soil for growing new plants.
If you want to read the whole review, you can subscribe to Frieze D/E online here, or buy the latest issue in the bookstore of course.
Link
tagged as: bernd_kraus frieze_d_e k_lnischer_kunstverein art review
I wrote a feature on the reopening of the Stedelijk for this month's Frieze. In the essay I wonder how the museum will fare in times of metamodernism:
"In 2003, the Stedelijk Museum was a leading establishment of contemporary art and culture; it was the wheel around which not just the Amsterdam art scene, but the Dutch cultural sector spun. On a global level, too, it had a good reputation. The question is: how will it adjust to today's situation? Where will it place itself now that there is no longer a centre? How will it improve on the debates organized by the galleries and cultural institutions? How will it negotiate global and local interests? Will it go for the blockbuster retrospectives, or will it head the way of the Van Abbemuseum in Eindhoven (i.e. putting together experimental, often conceptual, shows with lesser-known artists, drawing applause from the international community while receiving criticism from local government)? I imagine it will try and do it all at once. In some ways, it will also have to pull at two ends of an elastic band: between global show-off and local obligation, between blockbuster and difficult debate, between television feature and unknown artist – like the country in general. But I'm optimistic. Let's just hope that elastic band won't snap." You can read more by clicking the above link.
Link
tagged as: frieze stedelijk_museum opening metamodernism postmodernism contemporary_art
This week I was invited to give a Soeterbeeck Lecture on Mad Men at the University of Nijmegen. The title of the lecture was: TV als Kunst? The casus Mad Men (TV as Art? The case Mad Men). I am sorry to say it is all in Dutch, so it won't be for everyone.
Video
tagged as: mad_men soeterbeeck radboud_university_nijmegen timotheus_vermeulen tv
"

Ach ja, die cultuurfilosofen. Onvrede is van alle tijden. Vermoedelijk heeft de mens altijd naar verandering c.q. verbetering van zijn lot gestreefd zonder te weten hoe die verbetering eruit zou moeten zien. Het is al nauwelijks te zeggen wat modernisme precies is, ik vrees dat meta-modernisme zo'n term is die werkelijk alles kan betekenen. Als elk kunst
werk metamodern genoemd kan worden, dan moeten we met dank aan Popper concluderen dat metamodernisme niets om het lijf heeft.

Dutch author Arnon Grunberg responds to allegations he is metamodern.

Quote

tagged as: arnon_grunberg metamodernism
Kim Levin just published an article in Artnews describing the end of postmodernism and the emergence of metamodernism. She writes:
"In the past couple of years, there's been a new post- Postmodern movement lurking in Europe: Metamodernism. It features an agenda that involves art that is impermanent, incremental, provisional, and idiosyncratic, as well as site-specific and performative, emotive and perceptual, devious and questioning.

Advanced by cultural theorists Timotheus Vermeulen and Robin van den Akker, who have published Notes on Metamodernism as a webzine, Metamodernism neatly negotiates the built-in confusions and contradictions between Modernism and Postmodernism. Vermeulen and van den Akker propose that "the Postmodern culture of relativism, irony, and pastiche" is finished, having been replaced by a post-ideological condition that stresses engagement, affect, and storytelling. "Meta," they note, implies an oscillation between Modernism and Postmodernism and therefore must embrace doubt, as well as hope and melancholy, sincerity and irony, affect and apathy, the personal and the political, and technology and techne (which is translated as "knowingness")."
She goes on:
"Sense and nonsense play a role, too. So does quirkiness. In the foreground today are such so-called Metamodernists as Ragnar Kjartansson, Pilvi Takala, and Cyprien Gaillard, all of whom work in Berlin and whose work is characterized by a fluid esthetic that refers to nostalgia, make-believe, and old-fashioned painting as if it were performance. Kjartansson, who performs musically as well, painted one portrait a day of a friend in a Speedo swimsuit for the 2011 Venice Biennale. Takala's video intervention in an office job, shown in the "Ungovernables" exhibition at the New Museum, followed the artist as she pretended to do nothing for days on end—a bewilderingly sincere performance that questioned the concept of labor. And Gaillard, interested in the concept of failure, combines picturesque romanticism and entropic Land Art, setting off fire extinguishers in the landscape, recording the rubble of demolished modern buildings, and commissioning landscape paintings. In the work of these artists, reality, fiction, old-fashioned representation, and recent relational strategies come to terms with failure, instability, and all the looming "as ifs" of the present moment."
Link
tagged as: kim_levin postmodernism post_postmodernism metamodernism
An essay I co-wrote with my dear friend Gry Rustad called 'Did You Get Pears? Temporality and Temps Mortality in The Wire, Mad Men and Arrested Development' has just been published in Time in Television Narrative: Exploring Temporality in Twenty-First Century Programming, edited by Melissa Ames. The article deals almost exclusively with the silly scene embedded above. Want to read more? You can buy the whole book here. For a preview, check out google books.
Video
tagged as: mad_men quality_television temporality aesthetics